BLOG
1 maart 2010

Sart-Tilman
First podium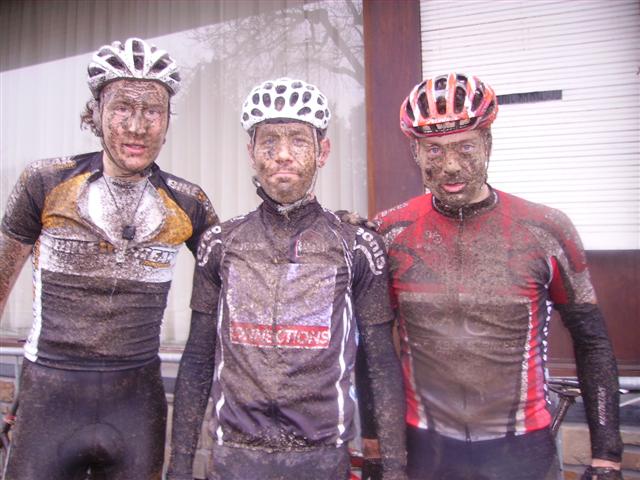 Last Sunday I participated in the VTT Sart Tilman, a 55km mountainbike race near Liege with about 1000 meters of positive altitude gain. The course is traditionally extremely muddy and contains some technical sections. I have raced here before in 2007 and, after several crashes, finished fifth.
After getting up way too early (5AM, autsch) I really needed some strong coffee with my Nuttela covered bread. The race started at 8.30 and I was definitely NOT looking forward to the first km's coming up as the course starts with a tarmac descend where speeds are above 40 km/h! The reason I was NOT looking forward to the first km's is that I decided, or actually had to, ride my 69er Singlespeed today, for the following reasons:
1) we're still waiting for our 29er full suspension team bikes
2) riding without gears in the Ardennes gives me a proper excuses in case I don't perform well
And indeed, after the first km's I was riding around position 1-0-0 as with my gear setup (34 x 16) I am not able to pedal as speeds are above 30km/h and pretty much the entire field passed me in the first road descends while I was just sitting on my saddle. As soon as the first climbs began I started mashing/running my way to the front of the race. On the first climb I already caught a lot of people, on the first tricky descend I caught another bunch of riders and within a short amount of time I was riding in the top 10 of the race.
Racing in the French-speaking part of Belgium is always exciting and today was no different as a dog ran into us during a descend. On the climbs/singletracks I was able to ride away but some would come back on the faster downhill sections as my singlespeed wouldn't allow me to go faster. Slowly less and less people were able to come back and I still felt pretty good. Some climbs would really hurt as I was severely overgeared but I always succeeded mashing my way to the summit and after 1.5 hours I got the top 3 in sight. I really believe my stair-running/jumping sessions work as those workouts seem to give me the strength/explosive power to ride shorter steep climbs with my 34 x 16 gear. Last week I also found out Christoph Sauser does
similar workouts
.
I was hoping for a long, not too steep, climb to close the gap with the leaders and definitely get rid of the chasing riders behind me. Well, the perfect climb I was hoping for didn't show up but I managed to catch number 2 and we continued riding for the last 20km's. In the end I had to let him go as the last 7km's were mostly on fast slightly descending roads and I simply couldn't pedal fast enough to follow him. After 2 hours 27 minutes and 52 seconds (22.32 km/h) I passed the finish line in third position. A better result than in 2007 so who needs gears anyway?
An overview of my heart rate (clickable):
Notice the low heart rate during the first minutes, I simply didn't have the leg speed for a 200+ cadence and therefore couldn't really pedal during the first km's.
Terug